12/07/17 — Heydon Hatcher
Recipe and Photo by Nadia Tamby
Need a break from sweets and cheese platters and general holiday indulgences? This time of year I feel sometimes overwhelmed with holiday parties and like to sprinkle in a few healthy salads for balance. Although, this salad (or variations of it) are actually my go-to dinner year-round. With a little prep at the beginning of the week, I can wash and trim the kale and put it in a large Ziploc bag for a quick salad any day of the week. I especially like that I can make a big batch of it and the kale is hearty enough to stand up to the dressing so that leftovers aren't soggy. If you feel that the kale has softened too much the next day, simply add more greens or grains to soak up the extra dressing. Make a soft or hard-boiled egg and you'll have a filling healthy salad to take to the work the next day!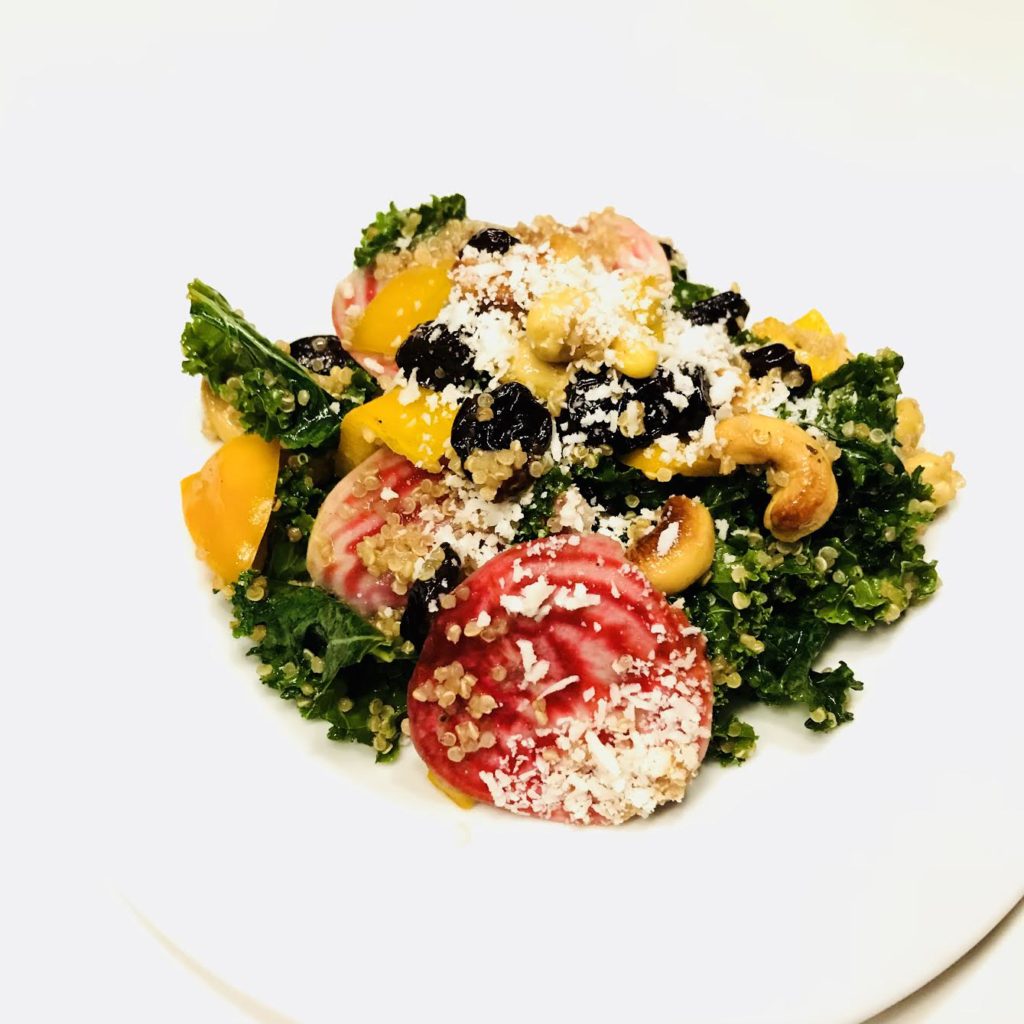 Ingredients:
1/3 cup extra virgin olive oil
1 lemon, zest and juice
1 lime, zest and juice
2 tablespoons raw honey
1 garlic clove, grated (optional)
1 bunch kale, washed, ribs removed, and torn into bite size pieces
Assortment of colorful vegetables cut into different shapes (for this salad I used peeled, sliced raw Chioggia beets* and chopped yellow and green peppers)
½ cup cooked quinoa or other grain
Salt and pepper, to taste
Topping (optional, but delicious and worth the extra step!):
1 tablespoon butter (or olive oil, but I like the richness the butter gives the nuts and fruit)
2 tablespoons cashews or other nuts
2 tablespoons dried cherries or other dried fruit
½ teaspoon curry powder, cumin, or other spice of your liking
Salt and pepper, to taste
Grated cotija cheese
Instructions:
Zest the lemon and lime into a bowl and add olive oil, citrus juices, grated garlic (if using), salt and pepper and honey. Whisk to emulsify (the honey helps to keep the oil and citrus juice from separating too much). I like to use a Microplane grater for the citrus zest and follow up with the garlic clove – and it saves you from the tedious task of chopping garlic. This is where you could also mix up the dressing – add a tablespoon of tahini or a nut butter to make a creamy dressing. Add toasted sesame oil and grated ginger for an Asian flair. Finely chopped cilantro and a jalapeno for spicy Mexican flavors. The base dressing is so versatile you can play around with it in infinite ways – be creative!
Toss the kale in the dressing at least 10 minutes before eating so that it has time to soften. Add any other vegetables and grains. If you just cooked the quinoa or other grains, let them cool slightly before adding them to the salad (though its ok if they are still a little warm – they will also help soften the kale).
You can add any other veggies you have too, raw or cooked – it's even a good way to use up leftover already roasted veggies. I find that sometimes I don't have enough leftovers to make a whole meal, but chopped up and tossed into a salad, I can use up that extra half a cucumber, or grilled broccoli or roasted sweet potato (or whatever you have) from an earlier meal in the week to make a more filling and colorful salad.
In a small sauté pan, heat up 1 tablespoon of butter. Add the nuts and the dried cherries (and ground spices if using) and sauté until the nuts are lightly browned, the cherries have plumped up (and the spices are fragrant). This should only take a minute, so keep an eye on it. Remove this quickly and transfer it to a bowl as they will burn quickly.
Serve the salad and top it with grated cheese and the fried nut and cherry mixture. *Chioggia beets have a beautiful pink spiral pattern on the inside and are beautiful when sliced raw. When you cook them, the color bleeds into the white part of the beet and they aren't quite as pretty, so I highly recommend eating these ones raw.
OLDER POSTS