09/21/17 — Heydon Hatcher
Recipe and Photo by Mackenzie Smith
Last week's CSA came with okra and Summer squash, two ingredients I know I'll be missing in a couple of months when root vegetables and bitter greens take up the lion's share of our weekly box. Keeping dumpling wrappers on hand make for an inexpensive way to fold the best of the season into a pocket that can be fried up and served with a tasty dipping sauce or frozen for later.
This recipe is nod to one of my favorite Summer dishes: okra cooked in bacon fat and stewed in tomatoes. For the dumpling filling, I stirred sliced, drained squash into the hot okra mixture, and added sharp cheddar cheese before folding the mixture into dumplings at freezing for later.
I get my wrappers from
Hana World Market
over on Parmer Ln -- and highly recommend a shopping trip to that wonderful store -- but you can find basic wonton wrappers at HEB, and those work just as well in a pinch.
4-5 small yellow squash or zucchini, sliced into ¼ inch thick half moons
2 slices of bacon
1 shallot or red onion, chopped
1 lb of okra, cut into ½ inch slices
1 tablespoon apple cider vinegar
2 cups canned tomatoes
1 tablespoon salt
¾ cup cheddar cheese
Dumpling wrappers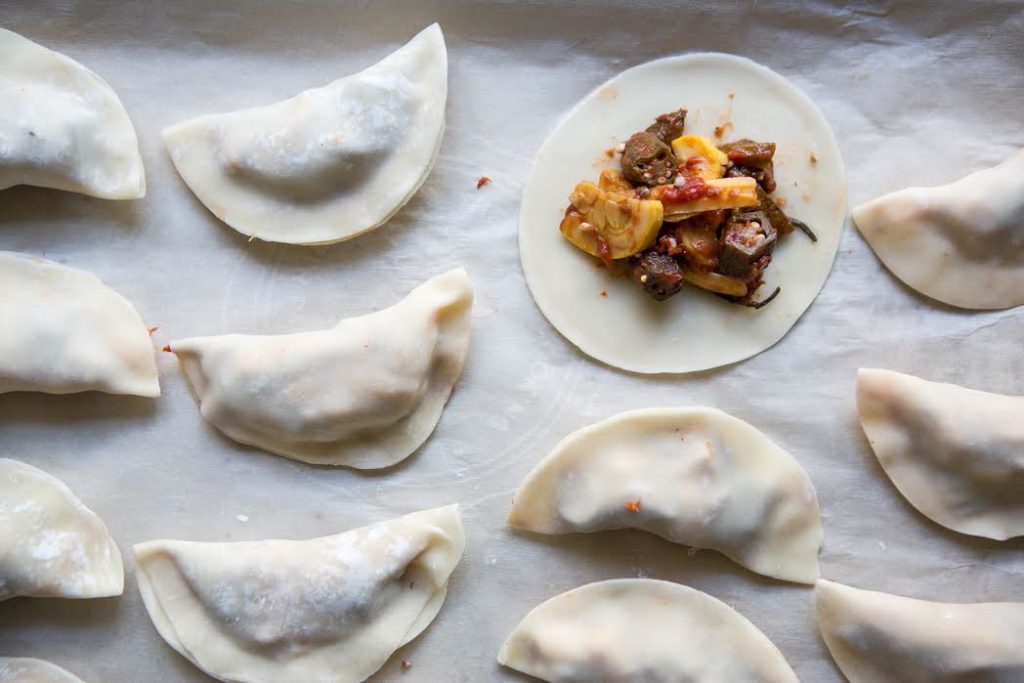 Remove dumpling wrappers from the freezer and thaw in the refrigerator for at least 4 hours.
Place sliced squash in a colander and sprinkle with salt, then leave it to and drain while you prepare the rest of the dish.
Cook the bacon in a hot skillet and set aside once it reaches desired crispiness. Try not to eat all of it while you make the okra. Add shallot or onion to the hot fat and cook on low-medium heat until translucent. Add okra to the pan and turn up the heat to medium-high. Cook for about 20 minutes, stirring often. Spoon in apple cider vinegar, then add the tomatoes to the pan. Turn up the heat and cook until most of the liquid is reduced. Remove from heat and stir in the squash, then add salt and pepper to taste.
Crumble what is left of the bacon and stir it into the dish. Mix in shredded cheese before you start to fold the dumplings.
Place folded dumplings onto a sheet pan lined with parchment paper. If you plan on freezing your dumplings, place the sheet pan in the freezer for about 20 minutes before putting them in ziplock bags back in the freezer.
If you are cooking the dumplings now, I suggest pan frying them like Diana Kuan suggests, over at
Appetite for China
.
OLDER POSTS