Pickling Class with Kate Payne!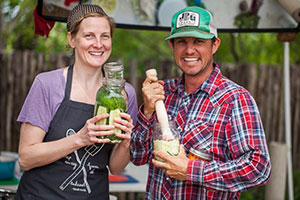 Photo by Scott David Gordon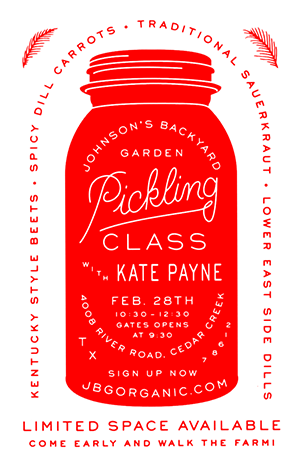 On February 28th, we'll be hosting a pickling workshop with Austin's own Kate Payne, author of The Hip Girl's Guide to Homemaking and The Hip Girl's Guide to the Kitchen. On this Saturday morning, workshop attendees are invited to come out to our beautiful River Road farm and learn the basics of canning, pickling, and fermenting. In addition, attendees will see a demo on how to preserve Asian inspired pickled carrots and scallions. Kate will also be workshoping how to make fermented cabbage, beet, and turnip slaw. Folks are invited to bring their own 16oz/pint-sized mason jar and lid in order to make seasonal vinegar pickles to take home. There will also be a Q&A session with Kate following the demos.
We were lucky enough to have Kate out to the farm before, but previous attendees need not worry: there will be different projects and demonstrations going on this time around. If you'd like to see a bit of what the day looked like last time around, click here to see Holly Postler's rendition of the day or the Chronicle's recap. If you come to the farm early, you can tour our fields or visit the Spring transplant sale.
The class will include a hands-on project, where folks will make their vinegar pickles of seasonal veggies (harvested directly from the fields surrounding the workshop!!). Recipes and techniques will also be shared for making Asian-inspired carrots and scallions and fermented turnip, beet, and cabbage slaw. (Ingredients for these delectable recipes will be available on-site should folks be inspired to scurry home and make the goods themselves!)
Other Topics to be covered:
Prepping Vegetables for Canning
Fermentation Basics and Methods
Canning Safety and Basic Equipment for Home Canning
---
What
Pickling Class with Kate Payne!
What Else
Spring Transplant Sale, and an Opportunity to Explore the Farm!
When
Saturday, February 28th, 2015 — 10:30am to 12:30pm
Where
4008 River Road, Garfield Texas


Don't worry, this class will be in our greenhouse where it's nice and warm!

Cost
$30 pre-order, $35 day-of
What to bring
Participants who want to make their own vinegar pickles at the workshop are asked to bring their own clean 16oz/pint-sized jar and lid.
---